Last Updated on May 5, 2022
Whether you are an entry-level rider trying to find the best value when it comes to budget-friendly riding pants or if you're looking to finalize your full set of gear for a lower price point… We've got you covered.
In this guide, we're going over the best cheap motorcycle pants on the market that don't ignore important safety features for the sake of making the most profit.
We'll go over our suggestions for why we chose each pair of riding pants here and where you can snag them. If you're in a rush, we've listed our main picks right off the bat.
With that said, we hope you'll go over all of the different types of riding pants that are featured in this guide. Depending on your riding style, you might find something that is different from what you initially had in mind.
Cheap Motorcycle Pants – Our Guide & Overview
---
We do not pick one specific pair of riding pants and call them the absolute best. We include real rider feedback, official specifications, and the key features of each pair of pants so that you can feel self-assured choosing a pair of budget moto pants that work for your riding style.
Below are our picks for some of the best affordable motorcycle pants that you can get today. Think under $100, over $50 for most of the options listed here.
You aren't going to see any riding pants here that are utter garbage when it comes to the materials used and overall safety measures. Safety is always our #1 priority when creating these guides, you'll see many budget options here that will keep you safe and stand the test of time.
It isn't easy to scout out and find quality options for budget moto pants. There are plenty of bad brands out there just trying to make a quick buck…
Right now, the ILM BJN01 Motorcycle Pants are the go-to pair. They are riding jeans that include high-quality armor padding and Kevlar lining that stay comfortable during summer riding.
If you're looking for the best budget waterproof pants out there then you will want to consider the Wicked Stock PT12 Motorcycle Pants. They are highly adjustable, they have plenty of pocket storage, and they'll keep you warm and dry at all times.
Continue going through each of the alternatives below to view all of the low-cost motorcycle pants. They each have their own style and use case… It's good to know what is available throughout the moto pants market!
Comparison Table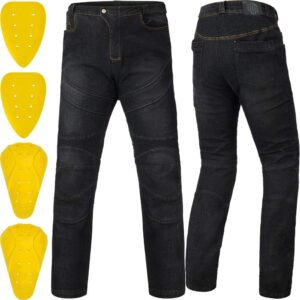 ILM BJN01 Motorcycle Pants

Gear from ILM is always a great choice when it comes to budget gear. Their BJN01 riding jeans come with high-quality armor and they have Kevlar lining in important impact zones.
The HWK S1 pants are a great pair to go with when you want the most characteristics possible for a lower price point. High adjustability and plenty of features - they can be used as overpants as well!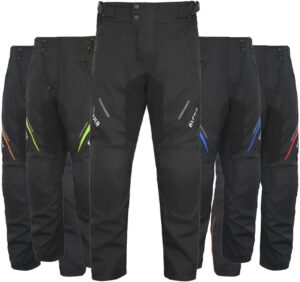 Alpha Cycle Gear 324-1 Motorcycle Pants

If you want to spend the least amount possible on a pair of riding pants that have plenty of sizes and styles then you should check out this pair from Alpha Cycle Gear. They come in multiple styles and sizes and are great for most seasons.
Top 10 Rated Cheap Motorcycle Pants of 2022
1. ILM BJN01 Motorcycle Pants
---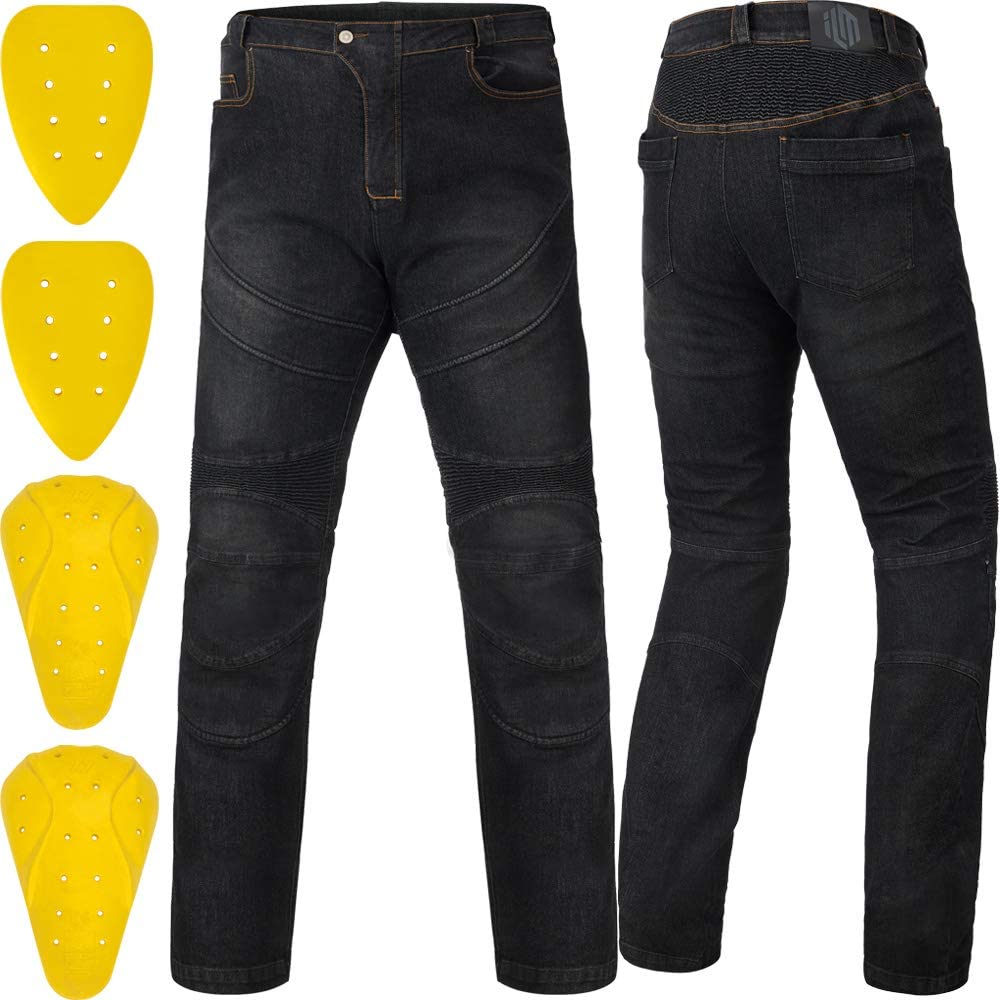 This first pair of pants are riding jeans from ILM that pack a punch in terms of optimizing your level of protection on the road.
They're made out of 10.5 oz stretch denim cloth, the lining in the buttocks is made with Kevlar, there are stretch panels on the knees/waist, they come with removable CE level 2 hip/knee protectors, and they come in a couple of different styles
ILM's cheap motorcycle jeans come through on good materials that are a breathable stretch denim cloth with a Kevlar lining to maximize abrasion and impact resistance around the waist.
With the denim used here, these jeans are breathable and would be comfortable to wear during hot, summer rides.
The Kevlar lining only covers the hip/waist area, it would have been nice to see the lining go into the part of the legs and knees… But for the price, it makes sense that it's only in the main area of the hips.
Stretch panels are designed at the hip and knees which helps with flexibility and moving around while wearing the jeans. These panels are sometimes overlooked in other budget moto jeans, so it's nice to see ILM take the time and ensure that the jeans are more flexible in those areas.
Although the Kevlar lining doesn't run down the legs and knees, there are still CE level 2 protective pads for the knees along with the hips. This creates a high level of abrasion and impact resistance throughout the jeans.
These are easily removable which allows you to add whatever type of armor replacement you'd deem necessary, but CE level 2 padding is more than enough when it comes to quality shock resistance.
As a matter of fact, there was actually a rider that reported being in an accident with these jeans – they slid over 200ft when they had to bail out at around 55mph. The jeans had minor rips in them, they stayed in-tact and took the tearing which otherwise would have been their whole leg getting scraped up.
Two different styles are available with these – black denim and blue denim. If you are looking for a pair of riding jeans that don't compromise safety, are comfortable to wear under the sun, and have a great style… these are the jeans to go for.
2. HWK S1 Motorcycle Pants
---
We feature HWK gear a lot when it comes to budget-friendly gear. HWK has one of the most popular picks for motorcycle pants and for good reason – they're highly affordable and are a versatile pair of riding pants.
Their S1 moto pants are made out of 600D Cordura textiles, they include padding in the knees/hips, they have a micro-mesh inner lining, and they're highly adjustable to fine-tune your fit.
600D Cordura textile is used in many pairs of budget moto pants because it has a good enough level of abrasion resistance while keeping a low cost during the manufacturing process.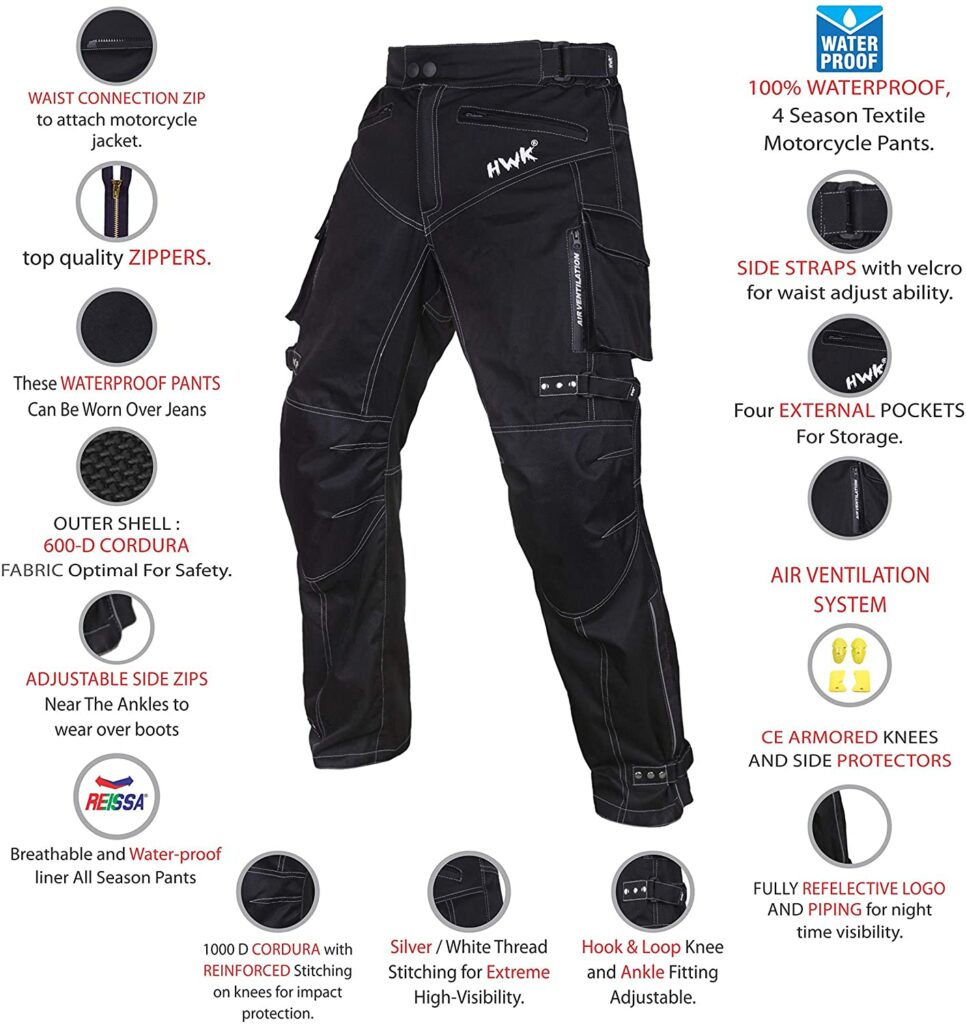 600D Cordura with armor padding in the right areas will help significantly in the event of an accident, which these pants do include some padding in the knees and the hips…
However, many riders have suggested replacing these armors because, although the padding is approved and is better than nothing, they aren't to the higher levels of quality that CE level 2 or even CE level 1 armor pads are able to provide.
The mesh liner inside the pants doesn't provide further protection, but it is a breathable liner that works with the air ventilation zippers on the outer portion of the pants. These are definitely designed for warmer weather riding, that's for sure.
Although HWK promotes these as an option for waterproof pants… Rider feedback has said otherwise – over and over again. Some riders have had better like with the "waterproof" liner by adjusting these to be worn over their regular jeans, but even then the separate liner isn't completely waterproof.
Putting the lower quality armor padding and these not being entirely waterproof aside – everything else with these pants is great to see at this price point. There are adjustments you can make around the waist, knees, and ankles to find the perfect fit.
The adjustable straps, zips, the fabrics used, the comfortability provided with the mesh liner design… These pants should be on your radar if you want high adjustability and comfort with decent protective features. Just be sure to replace the armor padding if you want to maximize impact resistance.
3. Alpha Cycle Gear 324-1 Motorcycle Pants
---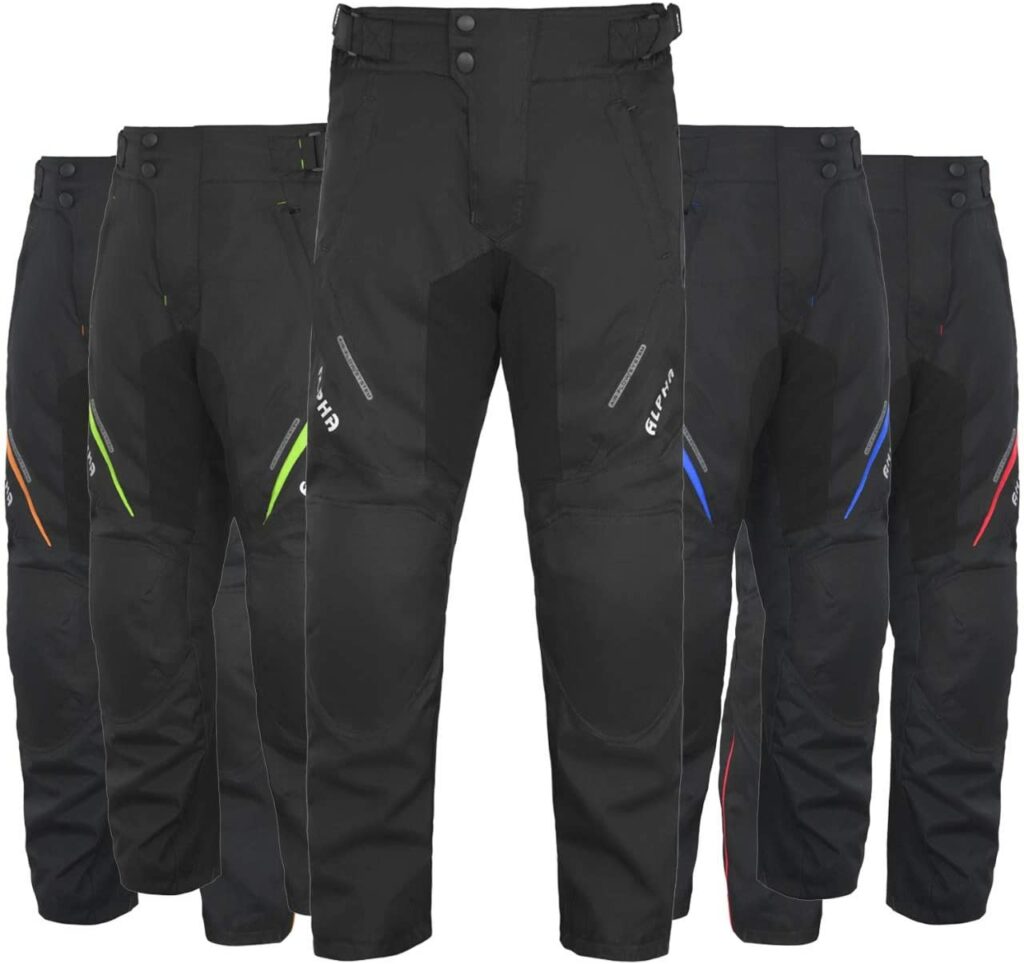 Not only is this next pick the lowest-priced pants listed here, but they're also the first go-to pick if you are looking for waterproof riding pants that don't break the bank.
Alpha Cycle Gear's moto pants are made out of 600D Cordura textile with 1200D Cordura in high impact areas, they come with some armor padding in the hips/knees, they are waterproof/windproof with optional venting zippers, they have some adjustability, and they come in plenty of size/style options.
These pants are no joke for how cheap they are. 600D Cordura textiles are used throughout the entire pant, but 1200D Cordura is used in the areas where it matters most.
The armor pads included in the knee and hip areas are similar to what HWK provides with their pants as well… Meaning that you'd be best off replacing the pads with better, tested CE armor padding. It's still "better than nothing", but it really is important to ensure you have proper armor within your riding pants.
These pants are not meant for hotter, summer rides. They are made out of a thick material and the inner liner is not removable. These were designed that way purposely to create riding pants that actually keep everything dry, even in heavier rain.
Even with the ventilation areas that you can zip open/shut… It's not enough airflow to be able to say that these pants are the right pick when it comes to riding during the warmer seasons.
There is some adjustability located at the waist and ankles to help you find a good fit. Be sure to order a size up if you plan on wearing these over your regular pants.
For sizing, you've got a lot of options to choose from. These pants have some of the most sizing options when compared to other riding pants. Along with the sizing options is that these come in blue, hi-viz, orange, red, and black trim styles.
If you're looking for a pair of riding pants that will keep you warm and dry while staying at a lower-budget price point – there are no other pants to be considered other than Alpha Cycle Gear's pants.
4. Wicked Stock PT12 Motorcycle Pants
---
Wicked Stock's PT12 model motorcycle pants are designed with practicality in mind. These have plenty of pockets for storing the essentials and have all of the features you'd expect out of a good pair of riding pants.
These pants are made out of 600D polyester fabric, they use 1680D polyester on the knees, they come with knee/hip pads, there are multiple pockets that are deep, you can make adjustments in three different areas, and there are many options for sizing.
It's no surprise seeing 600D materials used here, but there is an extra step using 1680D polyesters on the knees. If you combine the extra abrasion resistance with good armor padding in the knees, they'll for sure help out big time in the event that you go down.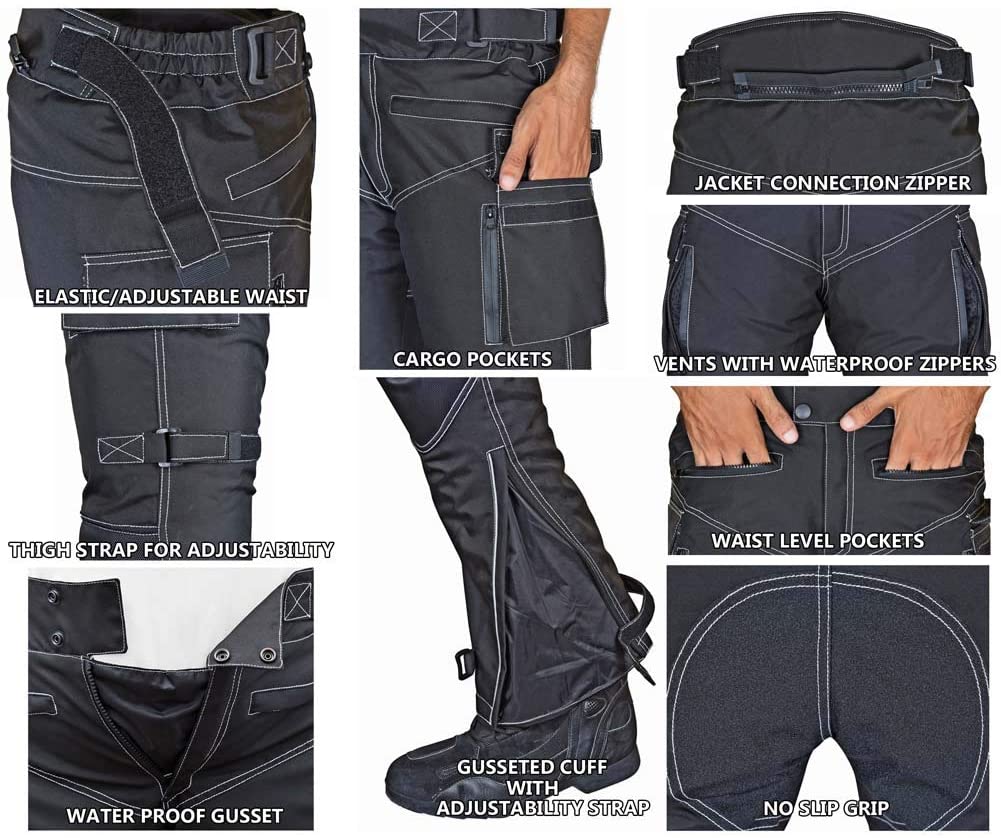 With that said, the armor padding is the same story as many other budget pants have… You'll want to replace the pads because they've been reported to not be actual, high-quality CE level 1 armor.
The materials used and the inner lining keep you nice and dry when riding in the rain but keep in mind that these are not meant to be worn over your regular pants.
I suppose you could get these as over pants if you measured it out correctly, but Wicked Stock purposely designed them to be worn as the only pants to wear while riding.
The addition of the deep pockets is nice to see, especially when compared to some of the other featured pants. There are a couple of waist-level pockets along with a couple of side cargo pockets, so you aren't going to have much trouble with fitting everything you need while you're out and about.
You'll be able to adjust the fit of these pants along the waist, thighs, and ankles. An important note about the sizing with these is that they are measured differently compared to regular pants or jeans. You'll need to follow their sizing chart based on naval measurements, not your regular waist measurements.
If you need practical, high-waist riding pants that are highly adjustable then these pants from Wicked Stock are hard to beat. They're very affordable and offer practical features across the board.
5. VNFOX VES6 Motorcycle Pants
---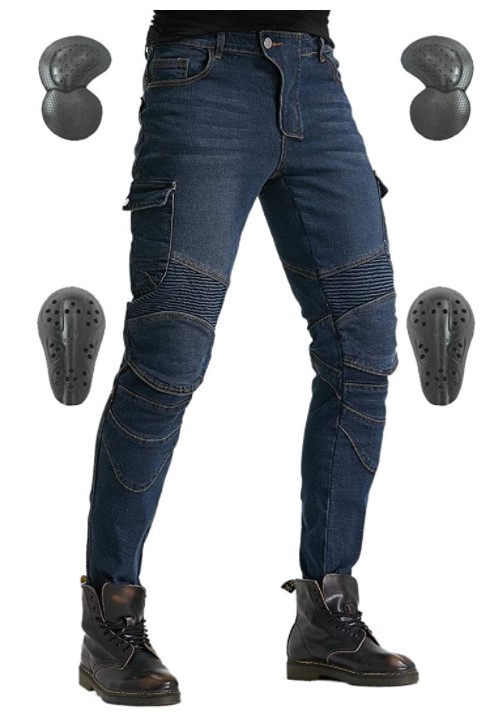 When you're trying to spend the least amount possible on a pair of moto riding jeans then these jeans from VNFOX are the way to go.
These jeans are made out of 14oz denim cloth, they include four different armor inserts, they have six pockets in total, they have decent stretch panel locations, and they come in blue denim, army green denim, and black denim.
14oz denim cloth is used to help with the wind resistance of these riding jeans. These are really meant for cooler season riding due to the thicker cloth used.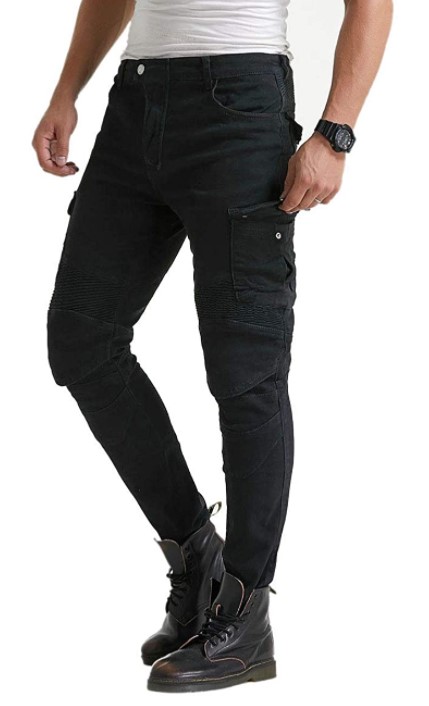 The four different pieces of armor that come with are located in the knees and the hips. These pads are reported to be actually certified, they'll help with impact resistance through the high-impact areas – your knees/hips.
There are a couple of back pockets, two hip pockets, and there are two pockets on the sides underneath the waist pockets. You won't have any problems keeping your phone, wallet, keys, etc. with you while riding in these jeans.
Stretch panels are at the top of the knee and in the back. These panels help the jeans to stay comfortable while moving around, bending your knees and back.
They come in three different denim styles depending on what you like best. There has been more than one rider that has reported how their sizing chart is a bit off… So you'll want to ensure that you are able to return the jeans if they don't provide the correct fitting right from the get-go.
It's unfortunate that these jeans don't have any protective inner lining, so you're really only getting a pair of casual riding jeans that have armor inserts included. The armor is absolutely better than wearing regular jeans while riding, but these surely aren't optimized for abrasion resistance.
If you want casual, stylish riding jeans in these styles and don't mind not having better abrasion resistance with your jeans then these are a comfortable choice to go with. They're also some of the lowest-priced jeans on the market!
6. Wicked Stock PT55 Motorcycle Pants
---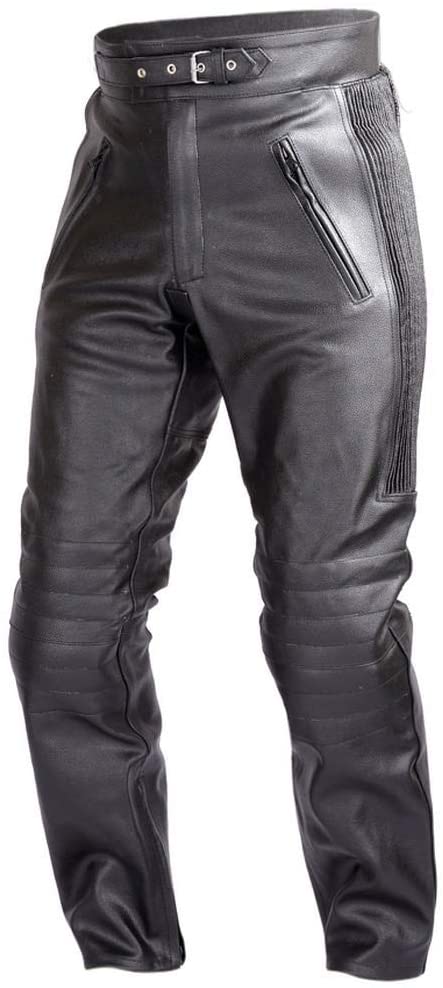 Onwards to a pair of budget leather pants – Wicked Stock comes through with their PT55 leather riding pants.
These are made out of 1.2 mm full-grain cow leather, they have a fixed mesh inner lining, they have waist adjustability, they have stretch panels, the seating area is reinforced, and they do a good job keeping you warm – even with the mesh inner lining.
With the leather being 1.2 mm, these draw a fine line between being a comfortable pair of leather pants when riding in warmer weather and having pants that keep you warm while riding in cooler weather.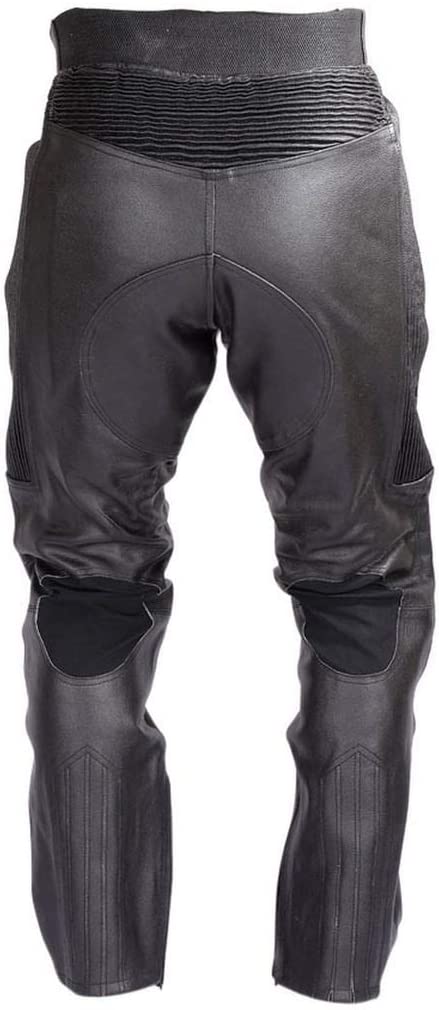 From multiple riders' feedback, these are comfortable for both warm and cold seasons! However, once you start treading into the 90°F territory… These will start to get uncomfortably warm to ride in.
Full-grain leathers are some of the best materials you can have in riding pants for maximizing abrasion resistance. Good leather does a great job of protecting you in the event that you need to bail out and slide against concrete.
These even have extra padding in the hips and knees that are removable, so you're also getting some extra impact resistance on top of the leathers.
Despite the fact that these are made out of leather and have extra padding involved, they're still breathable and comfortable to ride in. There is a mesh inner liner that helps with overall ventilation which is enough for day-to-day warmer season riding.
The waist has a buckle that you are able to adjust and there are stretch panels within the leather on the sides and back portions of the pants. They're easy to move around in and yet are snug for long-haul rides.
If you're in the market for cheap leather motorcycle pants, these pants from Wicked Stock are the ones to go for. They're highly comfortable, provide good protection, and they come in many different sizes.
7. O'Neal Apocalypse Motorcycle Pants
---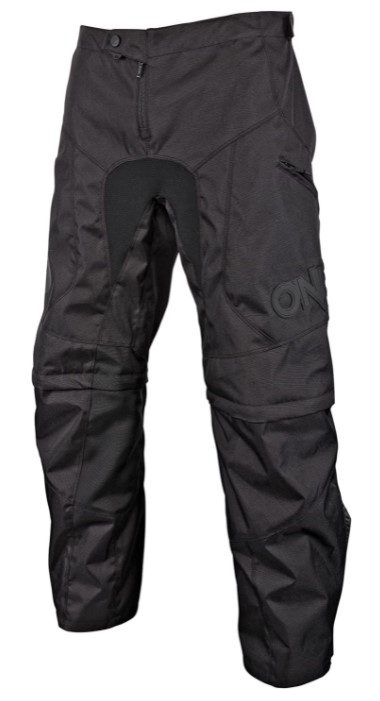 These next pants from O'Neal are able to turn into shorts because of their zip-off lowers. They're a great pick if you're on the lookout for comfortable, protective over pants.
The Apocalypse pants are made out of heavy-duty polyester denier fabrics, they have plenty of pockets for storage, there is a hook-and-loop closure system to fine-tune your exact fit, there is a heat resistant inner heat panel, they work great as an OTB (over-the-boot) style of pants, and they're built to keep you warm.
Polyester denier is a highly durable fabric that we've seen used with a lot of the different pants featured here. With these pants specifically, it's 600D being used.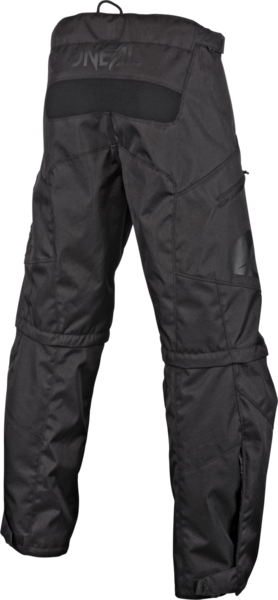 If deep pockets are important to you in a pair of riding pants, these have some of the best pockets that you're going to see in a pair of riding pants. There are two open hand pockets and two zippered pockets that you can use.
Adjustability is at the waist, they have double snaps at the closure and you can adjust it with the hook-and-loop at the waist. That also helps keep the zipper in place.
The inner panel of the pants has a heat-resistant panel that will keep you covered if you tend to slide your legs on your pipes. These are not going to be the best when it comes to summer riding, but you can zip the pants off into shorts whenever you need to.
There isn't any armor included with these pants, so you'll end up wanting to use strap-on knee pads for some impact protection.
If you'd prefer to have a pair that go over your boots to wear your regular jeans or pants underneath then these will be a great choice. After adding in some impact-resistant strap-on armor, these would be a highly protective and comfortable pair to go with!
8. Iron Workers Harden Motorcycle Pants
---
Another casual pair of riding jeans comes from Iron Workers with their Harden motorcycle jeans. These are a more baggy type of riding jean that has great protective features that come with.
These jeans are made out of 100% cotton denim, they have an aramid inner liner in important impact zones, they come with CE-approved knee armor pads, and they are a relaxed/baggy style of jeans that helps to keep cool while riding.
100% cotton denim is used with these jeans but they have an aramid liner where it matters most. Coverage along the legs and hips, there is a generous amount of aramid lining which is important for abrasion resistance.
In addition to the aramid lining is the fact that CE-approved armored knee pads are snug and ready to protect your knees. However, these don't include any hip armor but there are inserts within them to add in whichever hip armor you'd prefer to have.
The relaxed fit isn't something you see very often with riding jeans, this relaxed style gives you more room around your legs. This also helps a bit while riding in hotter weather, air is more easily transferred into your legs because of the extra room that the style provides.
They come in light and dark denim styles and have multi-tonal stitching – it's hard to tell at a glance that they're an armored pair of riding pants!
If you're looking for a baggier style of riding jeans that have abrasion resistance and knee armor in mind then these are definitely the pair to go for.
9. Wicked Stock PT09 Motorcycle Pants
---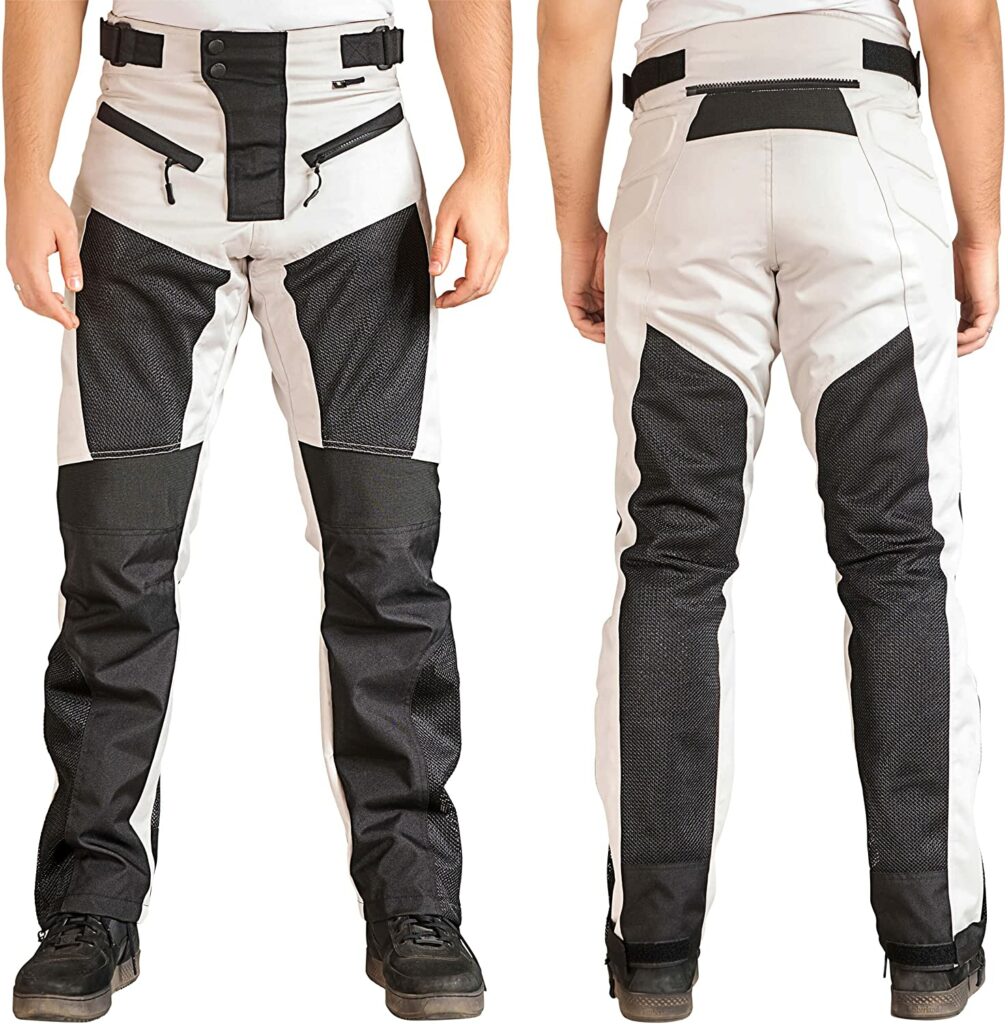 Wicked Stock is coming through with another pair of riding pants, this time with a design to keep you cool during the summer rides and ensure that you're protected from any impact or abrasion.
These are made with 600D polyester fabrics, they come with CE-approved knee and hip armor padding, they are highly adjustable to fit, they come in plenty of sizing options, and they work very well at keeping you cool while you ride.
600D is the sweet spot for any good pair of budget moto pants, the fabric is constructed with mesh panels to keep you cool during hot, summer rides. They also have CE-approved knee and hip armor built-in.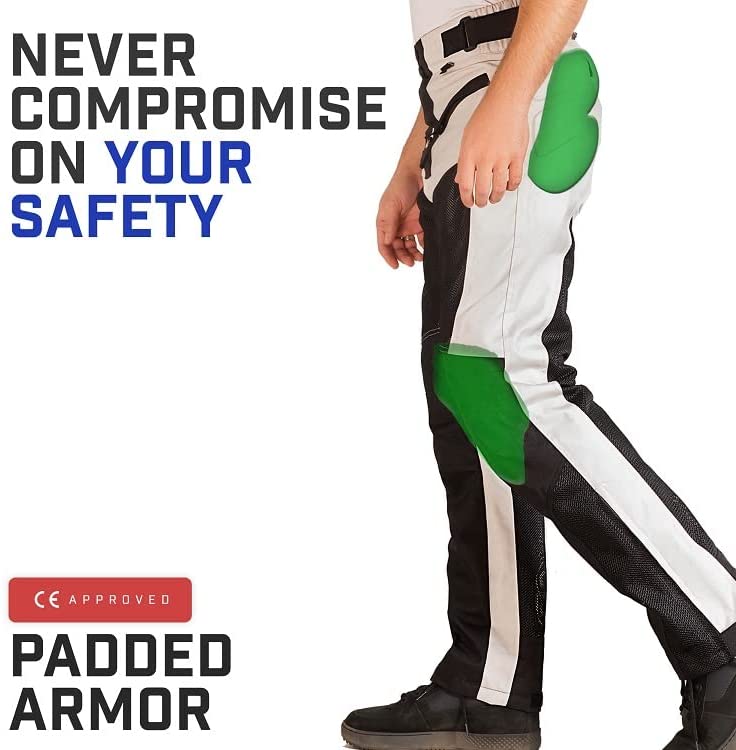 Both the knee and hip armor are removable and the knee armor is height adjustable. Although the armor pads are CE-approved, you might want to invest in better padding as it isn't the highest quality out there.
They are slightly water-resistant, but they aren't designed with keeping you warm and completely waterproof. You could probably get by with every riding season with these, but they're most optimal during the summer riding season.
You can adjust the fit at the waist, it uses an elasticated belt which makes it easy to put them to the perfect fit. The waist is also slightly padded for an extra bit of protection there. There is also some slight adjustment at the bottom of the pants.
These have some of the most sizing options out of the rest of the pants featured, they have an in-depth sizing chart and almost any size that you could think of.
If you're in the market for mesh riding pants that are super budget-friendly, keep you cool, and protect you at the hip and knees then these are going to be the ideal pair to go with.
10. BILT Lux Motorcycle Pants
---
When it comes to finding the best budget off-road moto pants, BILT has one of the best options. Their Lux riding pants keep comfort and protection heavily in mind for any off-road rider.
These are constructed with 600D polyester fabrics, they have an excellent design for airflow priority, they come with removable hip armor padding, extra constructed layers at the knees, they have a full mesh comfort inner liner, and they're tailored to fit knee braces/body armor.
The overall construction of these pants is designed specifically to maximize airflow and comfort. 600D polyester is used across the board with double layering at the knees and triple stitching in the high-impact areas.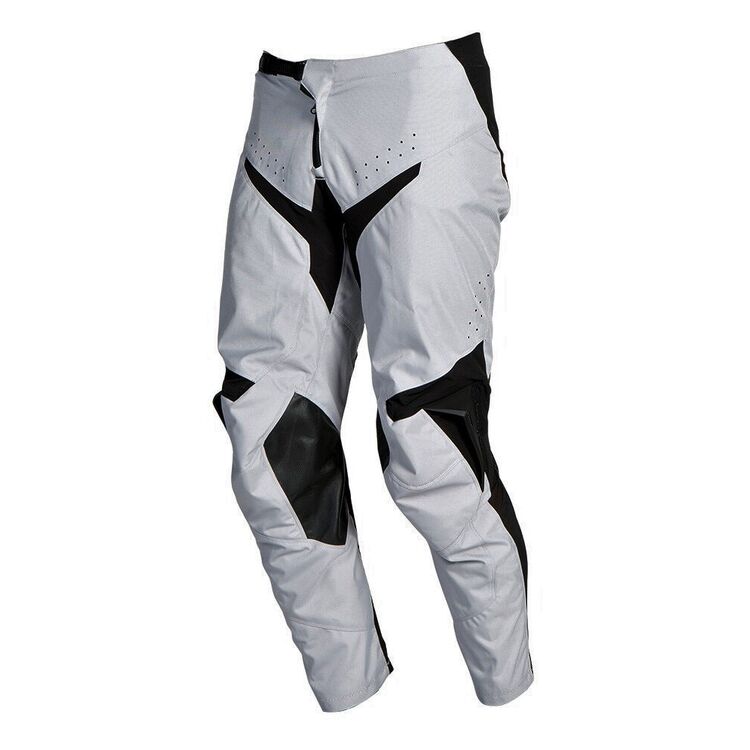 To add extra protection at the knees, the inner knees have full-grain cowhide leather panels. The knees also have pre-curved padding with air scoops that are double layered. Then you've also got the removable hip armor pads – so when it comes to off-road impact protection, you're heavily covered with these.
There is a full mesh comfort inner liner which adds more to the overall airflow of the pants. Perforations are placed at the front and back portions of the pants which helps with general breathability.
The legs are purposefully tailored to accommodate knee braces and body armor, they're also easy to tuck into any MX boots that you would be using with these.
Stretch mesh is located along the lower legs which allow for more freedom of movement that isn't at all compromising the areas that are triple stitched.
When it comes to cheap riding pants with motocross in mind, the Lux pants from BILT are hard to beat. These are the pants to go with if you ride off-road and want some of the best airflow design out of a budget-friendly pair of MX pants.
Cheap Moto Pants: A Guideline
---
There are plenty of options when it comes to inexpensive motorcycle pants – but you need to make sure that you're getting a pair that will actually keep you safe during every ride.
You not only want to focus on ensuring that a pair of pants is highly protective, but you also need to be certain that they're going to be comfortable for your type of riding.
You don't need to spend hundreds of dollars to find high-quality when it comes to moto pants. Below are some extra guidelines that you should keep in mind when you're searching for your ideal riding pants.
Hopefully, after reading through these guidelines, you'll be able to narrow down the exact pair that will be perfect for your riding style.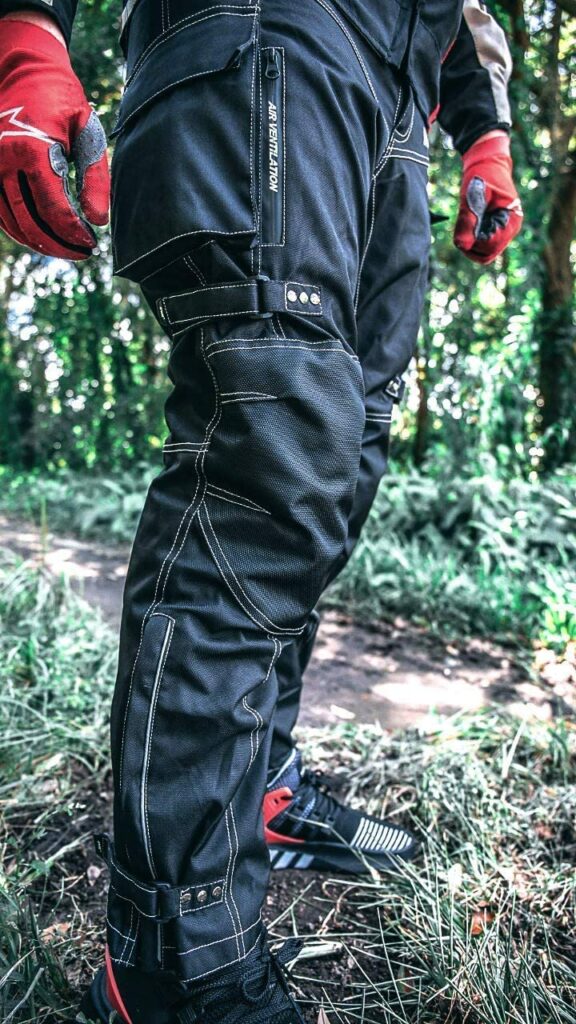 Getting The Fitment Right
It's pretty simple to get the wrong size of pants… Almost every pair of riding pants shared here have a sizing chart either within the product page's description or within the image section.
To ensure that you get your fitment right you'll need to measure your natural waistline, measure your hip around the fullest part which is typically 8 inches below your waist, and you'll need to measure for the inseam which is from your ankle to your groin.
Without accurate measurements, you are more likely to get a size that's wrong where you'll end up having to exchange the pants for the correct size.
Different riding pants will have different sizing charts due to how they're all designed in a different way. Going off of your regular pants size is a good starting point, but be sure to go through their sizing charts thoroughly and read through different riders' feedback to get an idea of the right sizing.
If you measure yourself correctly and follow through with the sizing chart – you'll be able to get the right size the first time around.
Materials To Look For
Almost all the textile-based pants featured here use 600D polyester fabrics. This is a durable fabric that, when constructed correctly, will ensure that you have a high level of abrasion resistance.
Having an extra layer of protective lining within the pants is a huge plus, especially when it's using Kevlar or aramid materials. Abrasion resistance is the main purpose for riding pants as your regular jeans, in the event that you go down, will rip and tear almost immediately while sliding on pavement.
If you're looking into denim riding pants, it's best to have an extra layer of protective lining in high-impact areas such as the hips and knees. If they don't, then you should make sure they have armor padding in those areas.
When it comes to leather riding pants, full-grain leather is absolutely the best for abrasion resistance. Leather is the chief material for protection against abrasions, but it comes at the cost of comfort when riding in a hot climate.
Comfortability & Protective Features
An optimal design of riding pants has comfort and protection in mind. Riding pants are a necessity – your casual everyday pants will do nothing for you if you have to go down and slide on concrete.
Comfort comes from stretch panel locations, freedom of movement within the leg area, and padding that is lined up correctly. It can be uncomfortable if a knee pad is always poking at you when you're in your riding position.
Unfortunately, most budget-friendly moto pants don't come with high-quality armor pads. Sure, they might be "CE-approved", but if you want to truly have the best protection possible then you'll want to replace those pads with high-end, tested armor.
It's important to have a pair of riding pants that are comfortable to wear on and off your bike while simultaneously being designed with impact protection in mind.
Snag some pants that have removable armor or that come with great pads built-in and you'll be set.
Budget VS High-End
Once you start looking at higher-end pants (priced at $250+) you'll find premium materials used such as Cordura denim used throughout the entire design or a higher denier rating on the polyester fabric.
Most of the premium options are also going to come with armor that has a higher CE level. Any armor padding is going to be 100x better than having nothing at all to protect you – but those higher-end pads really make a big difference in how much impact they're able to absorb.
600D polyesters on cheaper textile pants or thick denim combined with armor/protective lining in budget riding jeans are certainly better than any regular pants, and that's what is used with most of the cheaper options for moto pants.
Deciding On A Type of Riding Pants
Your riding style overall is going to dictate which type of riding pants will suit you best.
If you plan on going off-road while riding, you'll want to look further into pants that are designed specifically for that purpose. Sure, you could wear riding jeans or any other option if you wanted to – but it's about optimizing the experience and use case for the pants that you decide to go with.
You also need to plan on when you'll be riding the most and how hot or cold it gets in your area. You'll definitely want to go with protective mesh pants if you are riding during the summer in Texas, but then they aren't going to keep you warm during the colder riding seasons…
You could opt for getting a couple of pairs for the different seasons, which would obviously be best, but there are also options out there that have an extra liner that you can remove when necessary.
Get a pair of riding pants that best align with your style and the seasons that you're mostly riding in. Glance over the features to see if they come with a removable liner for warmer riding days, or test them out yourself and decide maybe down the road to get another pair that's better for that specific season.
Keep Your Legs Safe With Moto Pants
---
Don't wait until you learn the hard way that you should have riding pants when you ride.
There are plenty of affordable options when it comes to motorcycle pants.
Hopefully, after reading through this guide, you now have a better grasp of all of the inexpensive choices you've got when it comes to motorcycle pants.
Pick up a pair that aligns with your riding style, that keeps comfort in mind, and is able to protect you from both abrasions and impacts.
Is there a specific pair of riding pants that you think you'll be getting that was featured in this guide?
Are there other options that you think should be featured here?
Let us know in the comments below!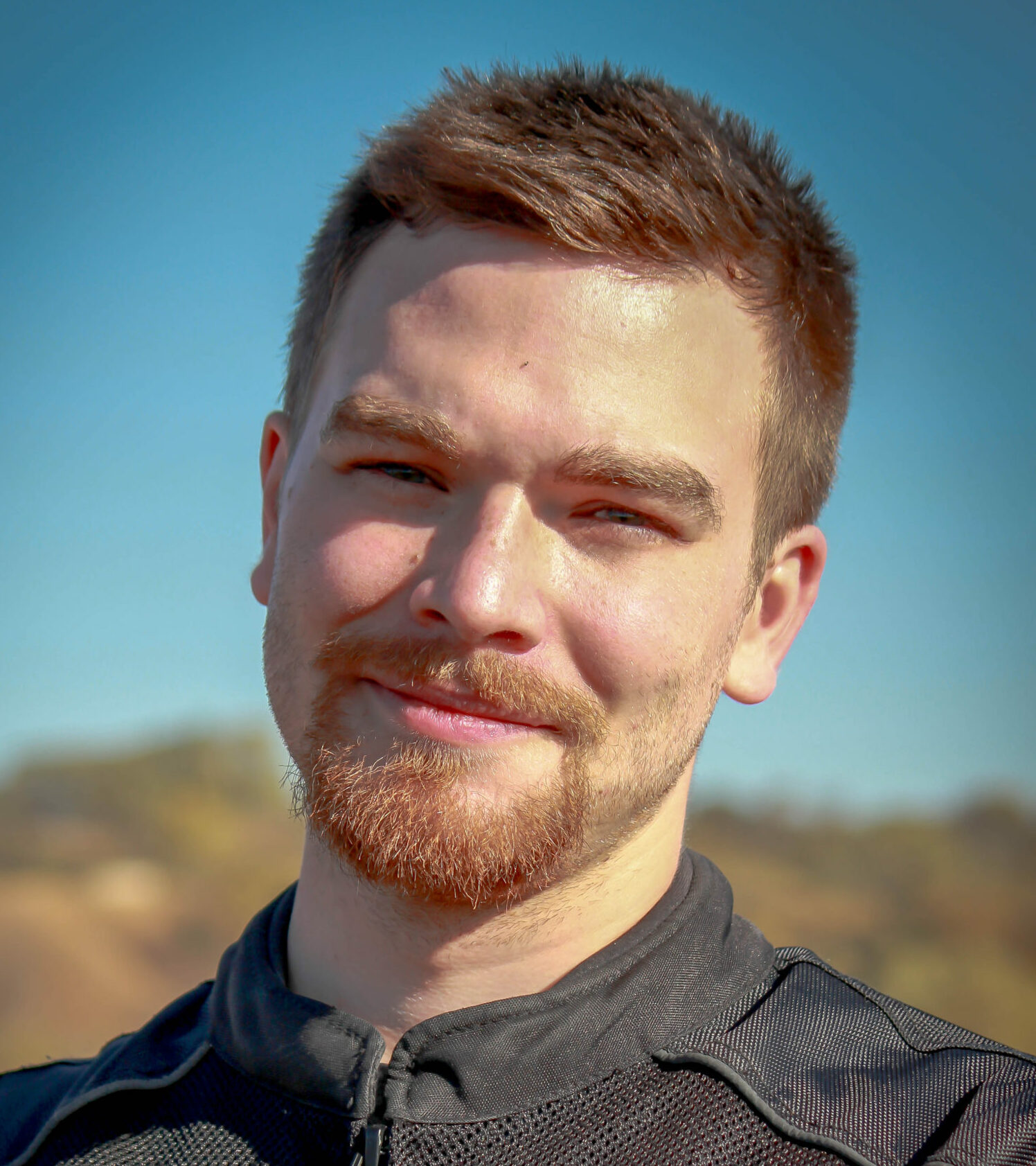 What's up! I'm Colton, the main guy behind Moto Gear Knowledge. Gear has always been my #1 priority when it comes to riding.
I share my experiences regarding gear and anything else moto related with you here.